Jessica Bruhn, Jessica Rabuck-Gibbons, and Selene Tyndale, Salk Scientists
Dmitry Lyumkis Laboratory of Genetics
Graham McVicker Laboratory for Integrative Biology
Jenivive Bernbeck, Mesa College Designer
Study of tyrosine kinase protein Abl, which causes chronic myeloid leukemia, in regards to genetic variation on gene expression and visualizing the biological complexity of large proteins and protein assemblies.
https://spark.adobe.com/page/VtuTHprLFdGM6/

@blunckcoralee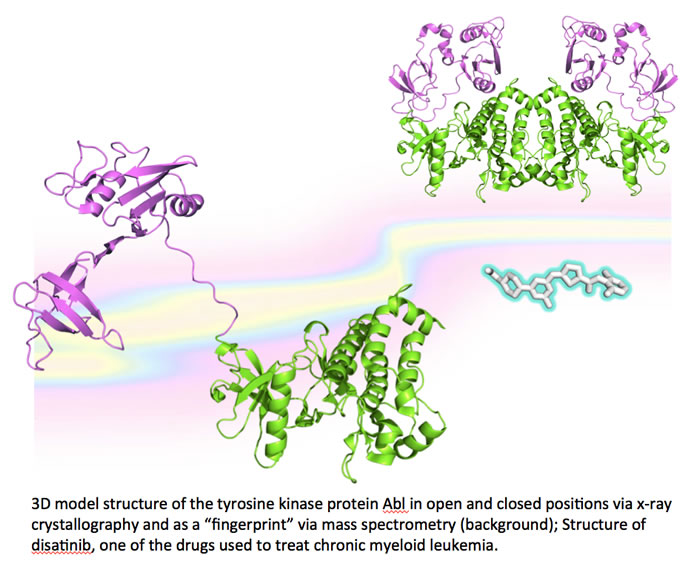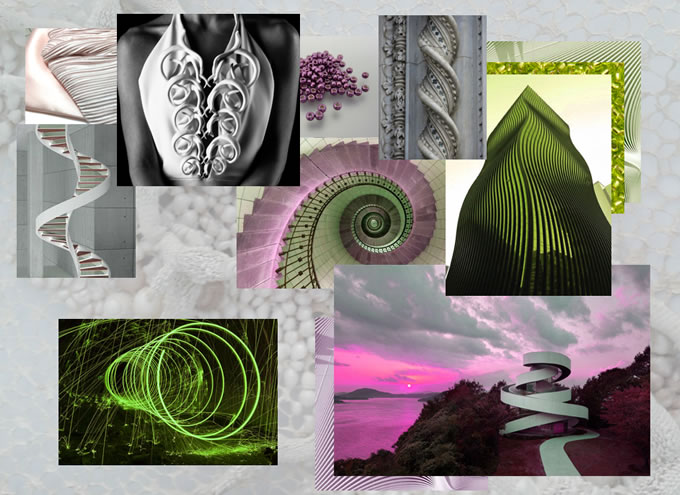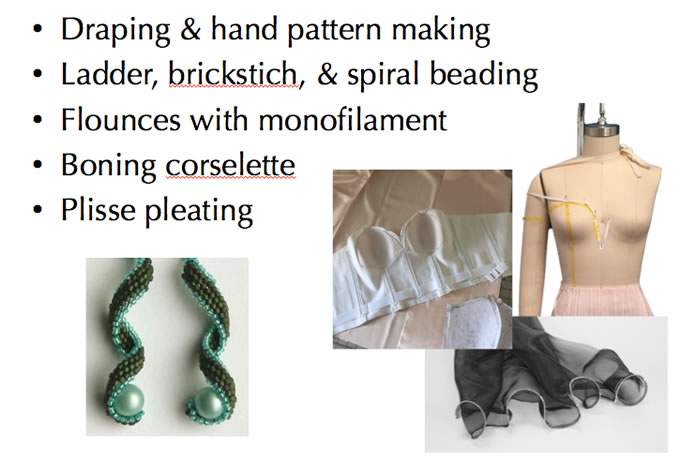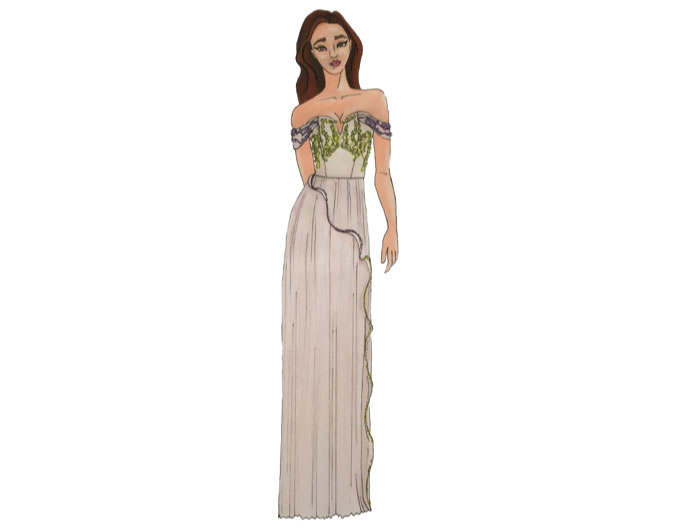 Team Abl scientists visualize molecular structures that cannot be readily seen with our eyes or even microscopes. The intent of the fashion is to similarly visualize the complexity of the tyrosine kinase protein abl assembly with an equally intricate design.
Beading illustrates the thousands of atoms which bond to build levels of increasingly complex three-dimensional structures. This technique was specifically used as single beads represent amino acids and how they build up from the primary (strand of beads) to the secondary (beading spirals and strand arrows), to the tertiary (complete left side), and to the quaternary (mirror image) structures. Similar to the hours scientists have spent in visualizing these protein structures in their labs, hundreds of hours were spent on the details of beading this visual model of kinase.
The bottom of the gown is made in pleated plisse fabric, in homage to the pleated beta sheets of the secondary structure of the protein. The spiral flounce on the skirtis a larger demonstration of the alpha helix. Kinase are very tightly controlled and when these controls fail, they wreck havoc on the body and cause cancer. The bottom of the gown illustrates this with one loose, unraveling ribbon in contrast to the tightly constructed structure on the bodice.
The unraveling spiral flounce also represents the "fingerprint" image developed via mass spectrometry. This new scientific imagery shows how a rogue kinase interacts with a specific drug bound to it, by uniquely unfolding its structure. Disatinib, one of the drugs used to inhibit rogue kinases from being active in the body, is represented in its chemical structure in the silver crown hairpiece.
Zooming out from the details in the design, there is a larger picture of elegance and sophistication in the silhouette of the gown. This elegance represents the way research is conducted and the allure of the scientific method in producing very simple, beautiful ideas. As much as there is a lot of detail in scientific research, there is an overall simplicity in thought and a unique and elegant way researchers approach and solve problems.