Cindy Liu, Scientist
Satchidananda Panda Regulatory Biology Laboratory
Marty Ornish, Designer
How signals sent from the intrinsically light sensitive mRGC cells to the circadian regions of the brain lines communicate with other regions in mouse eyes despite the mice being blind.
https://spark.adobe.com/page/hSBfaLQD9XO6r/
Designer website-
www.marty-o.com

@martyo_fiberartist/

www.facebook.com/martyornishdesigns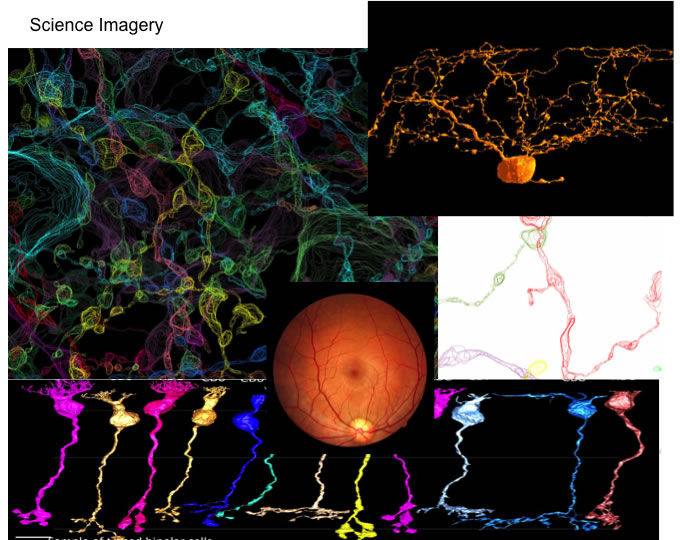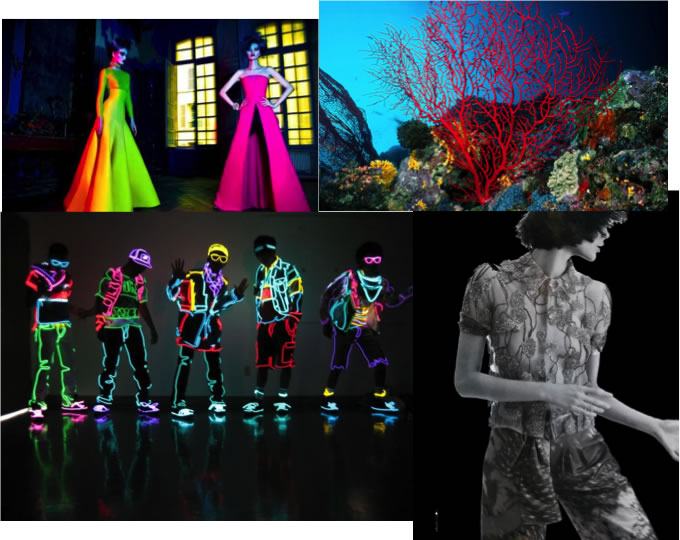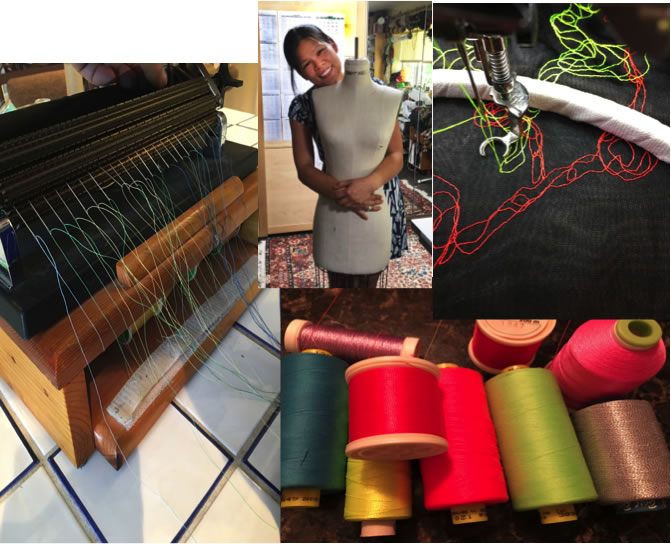 The black silk organza fabric in the skirt and blouse was chosen to represent the blindness of the genetically bred mice. Melanopsin-expressing retinal ganglion cells (mRGCs) are photosensitive cells in the mammalian eye that are essential for synchronizing circadian rhythms to environmental light, but do not contribute to sight, unlike rods and cones. A network of mRGCs was embroidered on the skirt and earrings with orange, yellow-green, and purple fluorescent thread, with each color representing a separate cell line. These mRGC lines appear to be suspended in space on the nearly-invisible cape, representing the three-dimensionality of the layered, retinal neural network.
The blouse was constructed with an outer layer of black organza over two layers of white silk organza that quietly fluoresces, like the night and day of our circadian rhythms. Likewise, the silk blouse fabric was tightly pleated on a vintage smocking machine – an homage to the layered nature of the retina, the 3-D quality of the mRGC reconstructions, and our pleated brain. Round seed beads embellish the neckline of the blouse, which represent the synaptic vesicles in the axons of the mRGCs.
The half-dome black fascinator hat represents the cell body of an mRGC. Mounted superiorly are two white fluorescent double-loops — the globes of the eye. Crowning the hat is a large, natural coral sea fan painted in a clear-coat of fluorescent lacquer, representing both the single mRGC from the original science image provided, as well as the fractal architecture of the vasculature of the retina.